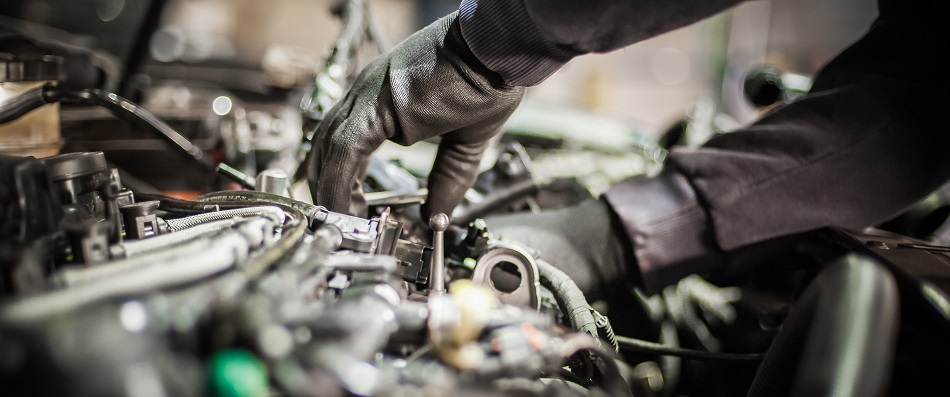 How Does an Alternator Work?
A vehicle's alternator is part of its automotive charging system, along with the battery and the voltage regulator. The alternator and battery work together to generate power for the electrical components of your vehicle, such as your car's air conditioning system and headlights. These components are very important to keep running, so you can have a comfortable drive on the roads of Hollywood. The alternator gets its name from the alternating current (AC) it produces.
The alternator can be found near the front of the engine and is driven by the crankshaft, which converts the vehicle's pistons' up-and-down movement into circular movement. Most alternators are bolted to a specific part of a vehicle's engine in order to achieve this. The electric current that is generated from the alternator is passed onto the vehicle's battery, providing the energy or voltage needed to run the vehicle's electric systems.
Your vehicle's alternator has vents on both the front and back sides, which aids in heat dissipation. The backside of the alternator has several terminals or connecting points in an electrical circuit. These terminals sense battery voltage, turn the voltage regulator on, close the circuit to the warning lamp, and serve as a full-field bypass for the regulator. If any one of these terminals is damaged, it can affect your alternator as a whole, and therefore your entire vehicle.
There are several signs to watch out for that may indicate a failing alternator. If you experience any of these signs, you can bring your car to University Auto Center in Hollywood today.
How Do I Know If My Alternator Needs Repairs?
Like any complex system, it is the sum of many parts that keeps your vehicle running without a hitch. When one part of the system is down, it can affect various parts of your vehicle. Whether you need an alternator for your Acura, Audi, BMW, Buick, or something else, the signs of a failing or broken alternator are universal. Here are five signs that you may need to come in for alternator testing, repair, and/or replacement:
Your battery light is on - Our dashboard lights serve as surefire indicators that something is wrong. If your battery or check engine light turns on while driving, there may be a problem with your vehicle's alternator, its battery, or both. If your car does not have a battery light, it will likely have an ALT (alternator) or GEN (generator) light that will turn on when something is wrong. If this happens, pay particular attention to your vehicle's electronic components. For example, if you are driving in Davie, FL at night with your headlights on, and then you decide to turn your radio on but it does not work, this is a strong indicator there is an issue with your alternator.
Your vehicle's electronic accessories have slowed down - One of the most common signs of a failing alternator is dim or flickering headlights. Similarly, your vehicle's windows may roll up and down more slowly than usual or your backup camera may have glitches. Of course, it is possible that there is something wrong with the accessory itself, but if you are experiencing more than one of these issues simultaneously, there is a high possibility the problem is the alternator.
Your vehicle's serpentine belt is loose - If you are experiencing any of the above signs, you may want to check your vehicle's serpentine belt (if you are unsure about this, our technicians at University Auto Center can take a look for you). Because the serpentine belt helps power the alternator, if this belt is loose, it will affect your alternator's performance.
You hear strange noises coming from your vehicle - Negative sensory cues are a sure indicator something is wrong with your vehicle. If you are hearing grinding or whining noises, this could mean one of the parts inside the alternator is worn out or broken.
If you are experiencing one or more of these signs and are in Cooper City, FL, Davie, FL, Hollywood, FL, Pembroke Pines, FL, Weston, FL, or beyond, feel free to bring your vehicle to University Auto Center in Broward today. We have a review score of 100 based on reviews from 393 satisfied customers and can determine if your vehicle requires additional services, such as scheduled maintenance and tune-ups.
Your vehicle's alternator is vital to a safe and enjoyable drive because it provides the energy needed to power all the vehicle's electronic accessories. If your vehicle's electronics have slowed down, your battery light is on, and/or you hear strange noises coming from your vehicle, do not hesitate to bring it into our Hollywood office for an inspection. Our technicians and owner George Stratoudakis have years of experience in auto repair, including wheel alignment and brake repair. You can make an appointment online at https://autocenterhollywood.com/ or call us at 954-450-3696. University Auto Center - Quality and Transparency with Every Repair!.